Edition: July / 2019

Picnics, Parties & Potlucks, Oh My!

What's Happening

If your summers are anything like ours, they're filled with picnics, parties and potlucks! Our office regularly holds luncheons and cookouts during the summer months, so we've definitely come across some great snacks and dishes.
5 Simple Ways To Brand Your Shipments
Tips & How-To's
Getting products to your customers' doors is part of your company's daily activities, so why not use your packaging to increase your brand awareness and customer loyalty? Here are five ways to make sure your brand gets noticed!
1. Custom Shipping Boxes

There isn't much that's more exciting than having that long-awaited Amazon package arrive at your door, with it's distinctive "grinning" A-Z logo. Ever wondered how you could get that kind of brand recognition for your own products?
AP&P can make that happen! We offer a huge selection of boxes ranging from standard RSCs to specialty designs like die-cut boxes, windowed and display boxes, and even FDA approved food packaging. And with everything from simple logo placement to complete full-color design printed on all sides, you can give your package a unique look that's sure to leave an impression.
2. Custom Shipping Bags & Mailers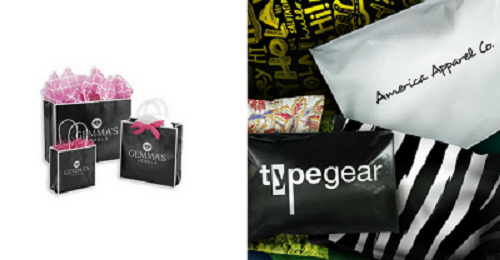 If you're looking for a sophisticated retail look for your products, look no further than AP&P. We offer merchandise bags (pictured on left) so you can ship your product in style. We also sell everything you need to complete the look, including crinkle-cut fillers & tissue paper. If you're looking for a way to brand your smaller shipments, then custom printed shipping mailers are the way to go (pictured right). AP&P sells a variety of styles including poly mailers, bubble wrapping mailers, and padded mailers.
3. Custom Shipping Tape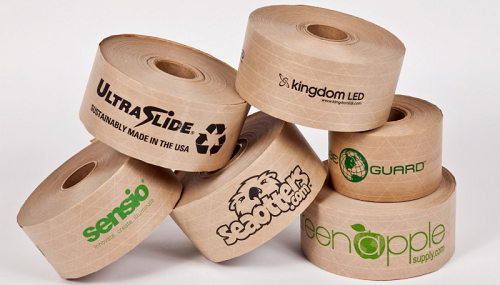 Are you looking for a great way to brand your shipping boxes with your company's logo, but are worried about the warehouse space and cost of printed boxes? Save money and warehouse space with printed tape! AP&P offers fast turnarounds on sealing and kraft (box) tape with your brand's colors and logo.
4. Packing To Protect

We've all heard horror stories (or perhaps been victims ourselves) of damaged product due to inadequate packaging or poor shipping and handling practices. An issue like this can really stick in the mind of your customer - and that is not the kind of recognition you need! Often times, filler or packing peanuts just aren't sufficient to provide the cushioning your product needs. The experts at AP&P will work with you to solve your packaging issues and ensure that your customers are delighted with their deliveries every time!
5. Go Green With Eco-friendly Materials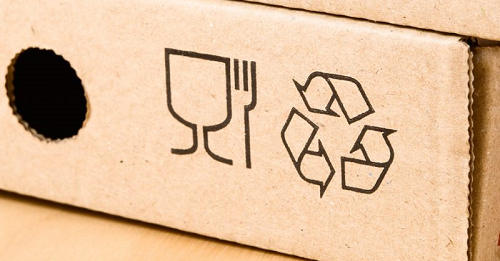 Customers today are more eco-conscious than ever. Using biodegradable and recyclable packaging materials is a great way to let your customers know that you're working hard to reduce your company's carbon footprint. Making a statement like that is something that they will respect and readily support by coming back time after time.
What if I Need More Help?
For some products, ordinary shipping supplies may not fit the bill. You may have an unusually shaped product, cool or damp storage conditions, or require an extended shelf life. For more involved issues like these, you'll need the expert advice of our Certified Packaging Consultants. For specialized items where only the best will do, it pays to have one of these advisors on your team!
Contact us today for more ideas on how you can reduce your packaging waste!
Like us on Facebook for more helpful tips!

Bill Sarles
Meet Our Team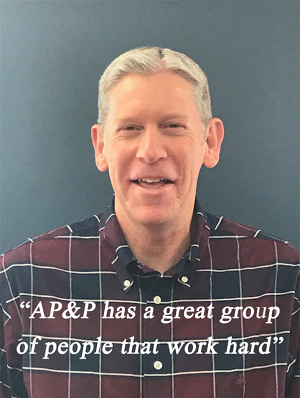 Bill is a husband and father to three married daughters (Molly, Emily and Megan). His sales and management experience, along with his vast product knowledge, has made him a great resource for our staff over the years. He and his wife, Amy, live north of Port Washington with their Cavapoo dog named "Hank". He is celebrating his 33rd wedding anniversary this year!
He has worked with AP&P for fifteen years, starting out in a sales position in 2004. He later became our sales manager, and currently works as our CEO & President. Prior to working with us at AP&P, he worked as a sales representative in the printing ink industry and later moved to a selling position with a national distributor of packaging, fine paper and facility supplies.
Bill has taken part in numerous sales, management and supplier training sessions, and received many certifications and awards in his career, including "Sales Person of the Year" In 1996. He has lived in Wisconsin all his life, growing up in Brown Deer and attending Brown Deer High School. He is also a proud alumnus of The University of Wisconsin - Whitewater.
In his free time, he enjoys traveling, riding his Harley, and fishing on Lake Michigan.
Our goal is to raise $10,000 for WHS over the next 4 years. If you want to help kickoff the new program today, we welcome your donations!
Thank you for your generosity!
See Our Progress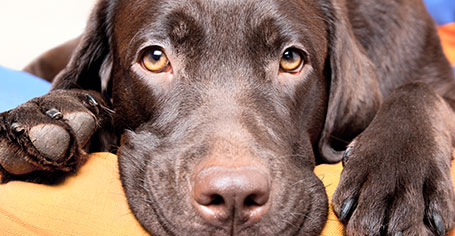 WHS Committment
The Wisconsin Humane Society is committed to providing protection, shelter, and care for wild and homeless animals. Because of generous donors, they are able to rescue, rehabilitate, and rehome thousands of animals like me every year!
Learn More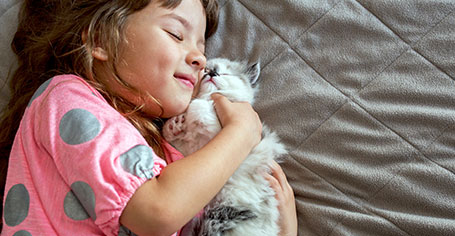 Get the kids involved too!
Got an animal-loving kid? From birthday parties and Kids-Night-Out to awesome summer camps, WI Humane Society has programs for kids of all ages at the Milwaukee, Racine, and Ozaukee Campuses.
Fun Programs