Shrink Wrap Packaging
High-Quality Shrink Wrap from American Paper & Packaging
Shrinkwrap is one of the most useful and versatile materials used in packaging. It's often made up of a polymer or PVC plastic which shrinks tightly over whatever it's covering with the application of heat. Shrinkwrap is commonly used to package and bundle food, boxes, gift baskets, books and other fragile items.
If your retail business or eCommerce store is in need of high-quality shrink film for your packaging needs, or you need a brand new shrink wrapping machine to bundle your materials, call the experts at American Paper & Packaging. We provide shrink wrapping solutions for businesses in need of shrink film as well as high, low and mid-volume machines for any packaging capacity and budget.
Check out our online store to find the best shrink film for your company.
Types of Shrink Film Used for Packaging and Bundling
There are two types of shrink film commonly used for packaging and bundling applications – PVC film and Polyolefin (POF) film. Each type has its own purpose and both are used in a variety of applications:
Also known as Polyvinyl chloride film, this type of shrink wrap is used to package boxes, CDs, DVDs, computer software, and other non-edible items. The plasticizer used in PVC hardens in cold conditions and softens under heat, and it requires proper ventilation when used since it releases hydrogen chloride into the air. PVC is generally not used to package food or edible items.
This shrink wrap is the preferred choice when packaging both edible and non-edible products, including, food, drink, glass, and other fragile items. This type of film is FDA approved and has excellent performance on all types of manual, semi-automatic, and fully automatic shrink wrapping equipment.
AP&P also offers a wide range of shrink film materials for a variety of uses, including:
Multi-Purpose Heat Guns for Maximum Efficiency
Heat guns are a necessity when using shrink film to bundle your packages. Heat is what allows the plastic film to shrink and tighten over the package, creating a strong waterproof seal around the product or products being bundled. You can find high-quality, affordable heat guns to help with your shrink wrapping right here at AP&P's online store.
We also offer automatic and semi-automatic shrink wrapping machines for all your company's packaging and bundling needs. Products made of plastic, metal, cardboard, or glass are protected from moisture damage with shrink wrap film, as well as offer consumers the certainty of tamper-free products in perfect condition. American Paper & Packaging specializes in setting businesses up with the best shrink wrapping equipment for their products and manufacturing needs!
AP&P supplies a wide range of packaging products with features including: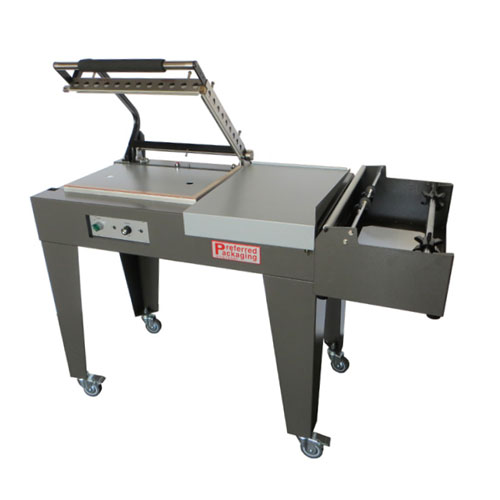 Touch screen operation
Digital temperature controls
Combination L-sealers/Shrink tunnels
Compatibility with polyolefin, polyethylene and PVC shrink films
Entry-level, intermediate and professional models
Heavy-duty casters for simplified transport
Hot wire or hot knife seal systems
Adjustable product trays
All-in-one shrink and sealing operation
Automatic cool down with shut off
Variable speed drives
Power discharge conveyors
Get High-Quality Shrink Film for Less!
When your company needs quality packaging material to ensure your products are protected from moisture and breakage, shrink film is the way to go. Get in touch with one of our packaging professionals to learn more about our PVC and Polyolefin shrink film, as well as our automatic and semi-automatic shrink wrapping machines.
Carton Sealers, Shrink Wrapping & Bagging Equipment for Shipping
American Paper & Packaging elevates the productivity of warehousing, shipping and manufacturing companies by providing the latest industrial packaging machines. AP&P's efficiency experts offer supply line and process consultation to supply your company with the perfect machinery to fit your unique needs.
Available Packaging Equipment
What type of packaging equipment do you need?
Improve carton consistency and reduce lead times with fully automated and semi-automated carton sealers and erectors
Secure, protect and package your products in polyethylene, PVC or polyolefin films with L-sealer machines and shrink tunnels
Overhead, robotic and turntable style pallet stretch film wrapping machines palletize your shipments more efficiently
Poly strapping machines secure pallets and individual cartons to minimize pilferage and secure product shipments
Foam in the bag, inflatable cushioning, paper void fill and protective packaging dispensing equipment to prevent product damage
Get the latest in bagging machine technologies and sealers for volume fill packaging of smaller products for display or shipping