Stock Packaging Materials and Shipping Products
Chipboard vs Cardboard vs Corrugated
The differences between corrugated, chipboard, and cardboard can be confusing and are often not clearly defined. Terminology can vary depending on the industry or personal choice. Corrugated, chipboard, and cardboard are all paper-based materials often used in boxes and cartons for shipping and storage. To some, cardboard and chipboard are the same material. To others, cardboard and corrugated are the same. These words are often used interchangeably. Many products, like the point of purchase displays, employ all both corrugated and chipboard. But both types have their advantages and best uses.
So what does AP&P mean by these terms?
Cardboard
Cardboard is a general term for a variety of thick paper-based materials, including corrugated and chipboard. Cardboard ranges from single-ply paper to multi-layer corrugated. At AP&P, we prefer to use the more specific terms corrugated and chipboard to avoid confusion and ensure you understand what you're buying.
Corrugated (sometimes referred to as corrugated cardboard or containerboard) consists of three layers of paper. The middle layer, or fluting, is pleated and provides strength. Corrugated is used for applications such as shipping boxes, pizza delivery boxes, and retail displays and packaging. We carry corrugated boxes, sheets, trays, mailers, and displays in our online catalog.
Chipboard (or paperboard) is a single-layer, lightweight, durable paper stock. Unlike corrugated, chipboard is rarely used for heavy-duty packaging and shipping. Instead, chipboard dominates the packaging industry for small consumer goods, such as cereal boxes, toy and electronic packaging projects. Our online catalog carries chipboard cartons, boxes, and pads.
Single-Walled
A single row of fluting pressed between two linerboards – standard for transporting lighter goods like shoes, artwork, hats, clothing…
Double Walled
Two sets of fluting sandwiched between linerboards on each side – excellent boxes for shipping moderately-weighted items like books, wine bottles, paint cans…
Triple Walled
Three sets of fluting with each separated by linerboard – great for shipping smaller but heavy products like compressors, small motors, motorcycle parts…
Foam Packaging Material
Our selection of foam packing supplies include:
Pre-cut polyethylene air foam sheets save packing time and provide lightweight protection for plates, cups, bowls, and more. Polyfoam is non-abrasive, moisture resistant can safely wrap around small items, and has a soft cushioning texture.
Polystyrene packing peanuts from AP&P help cushion products packed away in corrugated boxes. The interlocking shape prevents packages from settling, and the economical material is fast and easy to use for shipping and bundling purposes.
Get custom cut foam inserts from AP&P. Our foam inserts are made from polyurethane foam and cut to a convoluted shape for optimal cushioning. These professional-looking pads are great for shipments and packaging, and the shape allows them to interlock.
Get non-abrasive, light-weight air foam rolls from American Paper & Packaging. Air foam is filled with thousands of cushioning air cells to protect your product, and the shock absorbing foam protects delicate items from damage and moisture.
Foam corners provide maximum protection against impact, shock, and vibration during the shipping process. Foam corners are molded from expanded polystyrene, which will not scratch even the most delicate surfaces on your products.
AP&P offers air foam wrapping material in a convenient dispenser pack. The portable box is useful for workstation use, and the lightweight material keeps the product protected, dry, and clean. Foam wrap comes in regular and anti-static.
Flush cut foam pouches from American Paper & Packaging are non-abrasive, polyethylene air foam sealed to form a convenient lightweight pouch. This packaging is useful for small part protection and is available in regular and anti-static.
You can create custom-fit cushioning for your electronics with pick and pack anti-static foam. Our pick and pack foam is made of perforated squares that pop out to create the desired size, and the soft polyurethane material conforms around the item.
From Boxes and Bags to Stretch Film and Mailers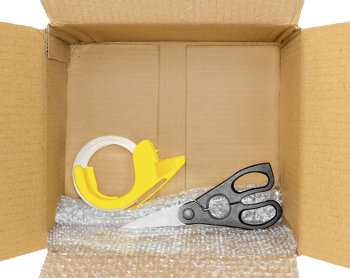 Our full-service packaging services include everything your business needs to operate at full capacity. Let our packaging materials fully protect your items for storage, transportation, and delivery to save your business time and money. Whether you're located in Wisconsin, New York, California, or anywhere else in the nation, American Paper & Packaging has a wide variety of products and equipment to package your products and materials:
Explore our full catalog of packaging supplies online to keep your shipping department running at optimal conditions. For unique products and shipments requiring specialized protection, we design and create custom packages and point of purchase displays. See some of our most successful custom packaging solutions.
Corrugated Boxes for Sale Online
One of the most versatile packaging materials available on the market is corrugated material. Millions of corrugated boxes are used every year to protect and display goods and products. Corrugated boxes are a light-weight solution to a heavy-weight problem, made of three layers of "kraft" paper (deriving its name from the German word for strong). The layered structure of corrugated resists tearing, splitting, and bursting. The structural engineering of our corrugated boxes incorporates a ridged inner "wall" made of the third sheet of kraft paper.
The inherent strength of the box, once assembled, is a business solution for lowering shipping costs while still carrying sufficient weight. AP&P has every shape and size of the corrugated boxes available for your business' packaging needs.
Multiple Chipboard Packaging Sizes Available
Chipboard is the handy, light-weight cardboard used to back pads of paper and to protect photographs when being mailed or transported. Chipboard is also used in book-making and craft construction, making it a multi-purpose material. Sometimes known as paperboard, chipboard is remarkably useful material. Made from recycled paper, the chipboard is an affordable, eco-friendly packaging product. Chipboard serves as an excellent packaging material due to its light-weight yet stable nature. Items packed remain stable while adding little to the overall package weight, keeping your company's shipping costs low.
Poly Bags for Shipping and Mailing for Sale Online
Polybags are multi-functional, all-purpose shipping containers used in a variety of ways. Offering convenience and protection, poly bags are essential for handling and mailing small parts and items which need to remain in pristine condition after packing and shipping. Polybags come in a wide variety of sizes, quantities and thicknesses and are capable of handling multiple tasks to serve any purpose your business may have. From flat or gusseted bags to static shielding, you'll find these shipping essentials and more online at American Paper & Packaging. Get what you need to keep your business shipping product!
Stretch Film vs Shrink Wrap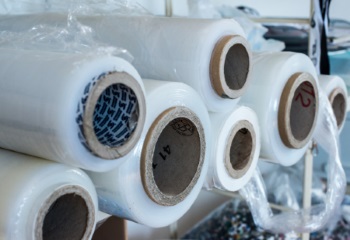 Along with corrugated boxes and chipboard cartons, our online catalog provides stretch film and shrink wrap for securing products during shipment and transportation within a warehouse. Like corrugated, chipboard, and cardboard, many people use the terms stretch film and shrink wrap interchangeably. However, there is a distinct difference in their uses.
Stretch film is a flexible plastic similar to Saran wrap. Often wrapped around multiple packages on a pallet to provide protection and stability. View our selection of hand stretch film, machine stretch film, stretch netting, dispensers, and cutters for your warehouse or loading dock.
Shrink Wrap
Unlike stretch film, shrink wrap does not stretch. Shrink film bags are wrapped loosely around individual products or several small items to shield against weather and dust. The shrink wrap is then heated with an industrial heat gun, causing the plastic film to shrink tightly around the items. AP&P carries a variety of shrink film, shrink film bags, shrink tubing, heat guns, and shrink wrap systems and service kits.
Packaging Solutions for Shipping Heavy Items
Buy affordable packaging for shipping large boxes of heavy objects. Our selection of large, heavy-duty boxes, containers, and packing materials are strong and sturdy. Transport or store all kinds of heavy products or parts, such as:
Machinery
Equipment
Parts
Engineering goods
Books