Wholesale Stretch Wrapping Equipment
Quickly Wrap Pallets and Reduce Lead Times with Stretch Wrapping Machines
Automatic and Semi-Automatic Stretch Wrapping Machines for Pallets
American Paper & Packaging helps companies get products through processing and out the door ASAP to reduce lead times and improve profitability. Our experts supply companies with modern wholesale pallet stretch-wrapping equipment and machinery to increase the efficiency of your shipping processes.
Palletizing products and material is the most efficient way to transport goods to consumers and around warehouses. Stretch wrapping keeps cargo secure on pallets and reduces pilferage. Whether you're a high-volume shipper or just need some entry-level pallet wrapping equipment, AP&P will supply your company with the equipment to improve logistics.
The Robot S7 Portable Stretch Wrap Machine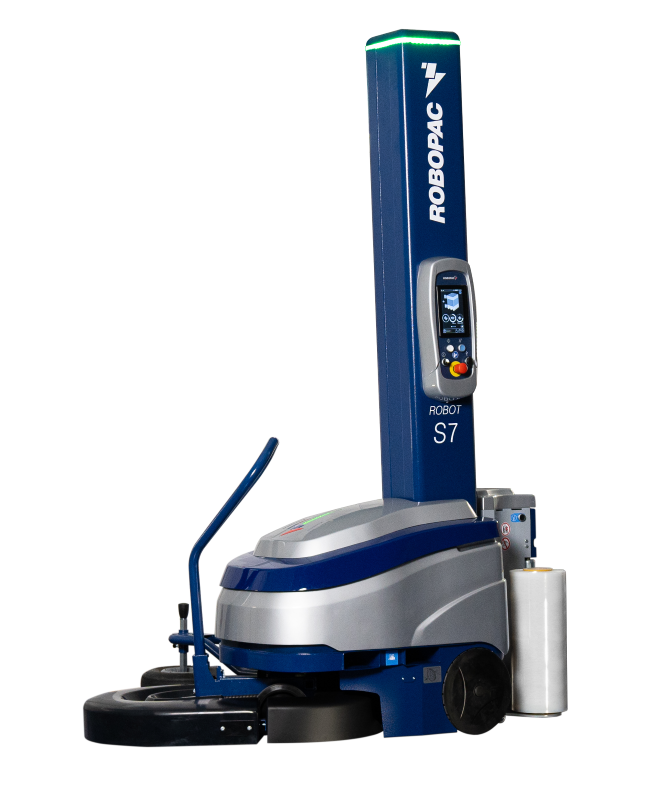 AP&P now offers the latest product from RoboPac USA, the Robot S7. With the latest technologies in stretch wrapping, the S7 provides users with unmatched efficiency. Because it is self-propelled all you have to do is load the stretch film, set the inside tire along the side of the pallet and let the S7 go to work.
State of the Art Features
The Robot S7 comes with some of the most advanced features and capabilities available. With a focus on safety systems, incomparable work flexibility and complete packaging autonomy the S7 sets itself apart from competing machines. Features of the S7 include:
R-Connect for viewing usage and performance data via the cloud on any devices

Control panel that allows for 12 configurable programs

PVS carriage powered by two motors to control stretch ratios

Variable Roping Device (VRD) to reduce the width of film into a cable that secures the load

Auto Film Cut that cuts the film after finishing the wrap cycle
Easy to Learn & Use
Setting up the Robot S7 has never been easier with the help of videos provided by RoboPac. The intuitive videos go over everything from setup to use of the S7 and even walkthroughs of the different features. Visit our contact page and submit a form to learn how AP&P can set your business up for improved efficiency and productivity.

What are the Benefits of Using a Stretch Wrapping Machine?
Protection from damage, dust, mold, and moisture
Safer during transport
Faster than manually wrapping boxes
More cost-efficient
Increased productivity
Reduces the chance of product separation, leads to better inventory control
Stretch Wrapping Equipment Features:
With a range of equipment available, AP&P offers pallet wrapping machinery with a variety of options and features:
High and Low Profile Wrappers
Pallet Jack Turntable Wrappers
Fully Automatic Cut, Clamp and Swipe Wrappers
Orbital Ring Wrappers
Rotary Arm Wrappers
Robotic Wrappers
AP&P Consultants Improve your Bottom Line
American Paper & Packaging works with businesses to improve shipping and warehousing processes, from supply chain logistics to packaging solutions. Our experts fully analyze your company's efficiencies to better supply equipment and prescribe solutions to improve your profitability.
Contact American Paper & Packaging to get the best pallet wrapping and stretch wrapping equipment for your shipping needs.