Shipping Mailers and Envelopes
American Paper and Packaging is your Mailing Envelope Supplier
When your retail business or eCommerce or marketing company needs to ship smaller or flat items like important documents, photographs, picture frames, or magazines, turn to the packaging suppliers at AP&P for quality poly and chipboard mailer envelopes. We stock a wide range of wholesale envelopes and mailers. From BUBBLE WRAP® Packaging Supplies mailer envelopes to express priority envelopes, we have the packaging solutions you're looking for.
Poly Mailers
Perfect Packaging Solutions for Fragile Goods
Shop AP&P's impressive online selection of packaging supplies for shipping/storage, including:
BUBBLE WRAP® Packaging Supplies lined mailers
Clear view mailers
Colored mailers
Expansion mailers
Long mailers
Returnable mailers
AP&P offers durable, convenient poly mailers in a variety of styles and colors, including: black, blue, yellow, and red. These multifunctional and all-purpose shipping containers can be used for mailing shirts, pens, and other products across the country.
Available in a variety of sizes, thicknesses, and quantities, they can serve any business or home mailing needs. Poly mailers can help keep items unmarked and undamaged during long-distance shipments and serve as essential armor for your mail with protected packaging.
Searching for custom packing solutions? Wisconsin packaging company AP&P has you covered with our Custom Packaging Page where you can find everything you need for custom packing.
Flat Mailers
Wisconsin's Best Chipboard Material Packaging Products
Shop online for AP&P's packaging supplies, we have the best products available - including: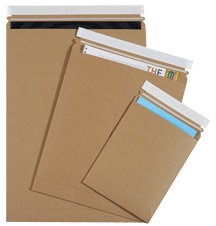 Black Mailers
Express Priority Mailers
Kraft Mailers
Kraft Self–Seal Mailers
Utility Mailers
White Mailers
White Gusseted Mailers
White Self-Seal Mailers
White Side Loading Mailers
Whether you're buying flat mailers wholesale or individually, AP&P's corrugated flat mailers don't bend, stay flat, and help protect any shipping needs you have. From shipping photos, documents, artwork, diplomas, records, and other fragile items, our durable lightweight flat mailers will keep your shipments protected and undamaged.
Have any questions regarding our flat mailers? Contact our Wisconsin Packaging Offices at 414-462-8560 for more information.
BUBBLE WRAP® Packaging Supplies Mailers
The Best Packaging Solutions for Lightweight Protection
Small packages that only require a little protection are often mailed in BUBBLE WRAP® Packaging Supplies-lined Kraft paper mailers. With their lightweight protection and secure, tamper-evident closure, BUBBLE WRAP® Packaging Supplies mailers are one of the most popular mailers companies like yours use to send small packages or important documents. With both "peel and stick" lip and heat seal mailers available, you're sure to have all the BUBBLE WRAP® Packaging Supplies mailers you need for your particular application.
The types of BUBBLE WRAP® Packaging Supplies mailers we have available include:
Kraft self-seal
White self-seal
Kraft self-seal with a tear strip
Kraft heat-seal
Glamour
Poly
Cool shield
All BUBBLE WRAP® Packaging Supplies Mailers Contact AP&P
Carton Sealers, Shrink Wrapping & Bagging Equipment for Shipping
American Paper & Packaging elevates the productivity of warehousing, shipping and manufacturing companies by providing the latest industrial packaging machines. AP&P's efficiency experts offer supply line and process consultation to supply your company with the perfect machinery to fit your unique needs.
Available Packaging Equipment
BUBBLE WRAP is a trademark of Sealed Air Corp.