Carton Sealer Machines for Sale Near Milwaukee
Carton sealers and erectors provide you with the ability to increase warehouse efficiency by improving carton consistency and reducing lead times. Whether it's semi- or fully-automatic carton sealers, American Paper & Packaging offers a wide array of sealing machines for your business needs. A carton sealer can provide your business with:
Increased Output
Reduced Tape Cost
Enhanced Packaging
Reduced Employee Injuries
Eliminate Product Damage
Whether you need automatic or semi-automatic, uniform or random, 4-edge sealers or high-speed sealers, or anything else; our efficiency experts will recommend the best packaging system for your fulfillment company.
Top Carton Sealer Machine Brands
American Paper & Packaging partners with the most trusted manufacturers in order to get you the machinery that you need. We work with top brands such as:
BestPack
Preferred Pack
IPG
We offer both automatic and operator-fed machinery to improve your warehouse process today.
AP&P's Picks: Best Industrial Carton Sealers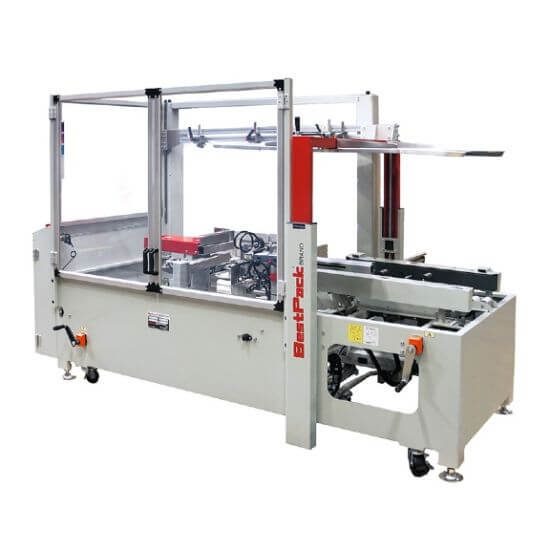 BestPack ELVS Carton Sealer
One of the newest high-performance carton sealers on the market. This machine focuses on heavy usage and quick carton size changes. The ELVS is perfect for increasing shipping efficiency and productivity.
Features:
15 Cartons per minute
Quick changes between package sizes
Interchangeable tape heads
Low/No tape sensors
Side belt drive to keep packages in place
Download Our Full Catalog to See More Carton Sealers
Shop for Corrugated Shipping Boxes in Bulk
Whether you may need corrugated or chipboard packaging, we can fulfill your needs. We have a variety of corrugated shipping boxes and chipboard boxes available in bulk.
Increase Your Bottom Line with the Efficiency Experts of Wisconsin
AP&P helps your business increase productivity and offset rising costs of labor. In addition to supplying the best in carton sealers and other industrial packaging equipment, we provide consultation on controlling the increasing costs of inbound and outbound freight. Our ELEVATE supply chain analysis helps you understand where your costs lie and how to improve your processes and product flow to reduce costs.
Contact our experts to get the best carton erectors and sealers for your packaging needs.