Wholesale Carton Sealers And Erectors
Increase Warehouse Efficiency with Carton Sealers and Erectors from AP&P
Automated Packing Systems for Sale
Continuing to improve warehouse processes should be at the top of the list for any manager or business owner. American Paper & Packaging connects area businesses with the wholesale carton sealing machines and packaging equipment needed to increase productivity when shipping goods.
From semi-automatic box makers to fully automated carton building processes, American Paper & Packaging has the machinery for your shipping needs. Our efficiency experts will recommend the best packaging system for your fulfillment company.
Automatic and Semi-Auto Carton Sealers
Industrial Box Sealing Machines from AP&P
American Paper & Packing has sealing machines for pick and pack business and manufacturers fulfilling large product runs. We provide automatic or operator-fed box sealers from trusted manufacturers including:
BestPack
Preferred Pack
IPG
…and more
Carton Sealer Features Available
AP&P offers a wide variety of box sealing machines with features to meet any need:
Uniform Semi-Automatic
Uniform Automatic
Random Semi-Automatic
Random Automatic
Uniform Semi-Automatic 4 Edge Sealers
Random Automatic 4 Edge Sealers
Random Fully Automatic High Speed Sealers
New Addition: BestPack ELVS Carton Erector/Sealer
The BestPack ELVS is one of the newest high-performance carton erector/sealers on the market. With a focus on heavy usage and quick carton size changes the ELVS is perfect for increasing shipping productivity and efficiency. AP&P trusts BestPack in providing some of the highest quality and most efficient products at the best cost.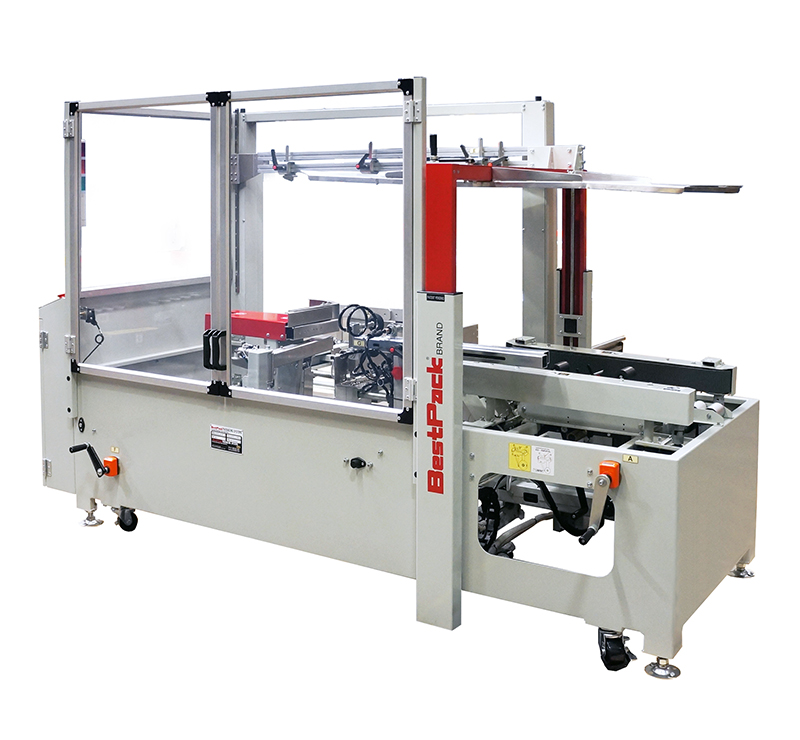 Benefits of the BestPack ELVS
With a speed of 15 cartons per minute, the ELVS is one of the fastest caron erector/sealers in the industry. The ELVS also comes with many state-of-the-art features that allow for quick changes between package sizes, easy controlling and customizability. More benefits include:
A heavy duty 3mm welded frame

Side belt drive with high-speed motors to keep packages in place

Malfunction alarm with three colored lights to alert employees

Allen Bradley PLC controls that allow for easy use

A power feed hopper for moving packages

Interchangeable 2" or 3" tape heads

Low tape/no tape sensors
The BestPack Advantage
Customers who purchase a BestPack ELVS will qualify for the BestPack Advantage (BPA). The BPA includes maintenance and support, an extended warranty and many other benefits. If your business is looking to purchase a BestPack ELVS, fill out a contact form today to receive information about pricing.
Best Carton Erectors for Your Business
Getting perfectly uniform cartons is just one benefit of getting box building machinery from AP&P. Fully automated box making machines from American Paper & Packaging take boxes from blank to built fast to improve your packaging processes.
Carton Erecting Machinery Features Available
With a wide range of case building solutions, AP&P will recommend a machine with the right mix of features for you:
Bottom or top sealing
Tilting for easy carton filling
Packing station or fully automatic styles
Left or right orientations
Sanitary stainless steel
Adjustable hopper and carton widths
Top or side hopper systems
Malfunction and low supply alarms
Wide variety of box types
AP&P are the Efficiency Experts
AP&P helps your business increase productivity and offset rising costs of labor. In addition to supplying the best in carton sealers and erectors, we provide consultation on controlling the increasing costs of inbound and outbound freight. Our ELEVATE supply chain analysis helps you understand where your costs lie and how to improve your processes and product flow to reduce costs.