Vendor Managed Inventory (VMI) System
Inventory Management System for Warehouses, Supply Chains, and Other Businesses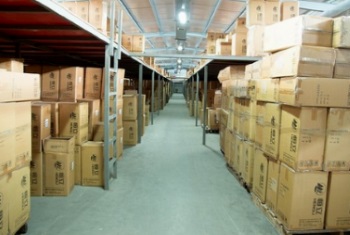 When you order your wholesale packaging materials, janitorial products, and other supplies from AP&P, ask about our Vendor Managed Inventory system. This program makes your inventory tracking and reordering process more efficient by doing it all for you! AP&P's VMI system is just one part of our logistics and supply chain optimization services.
American Paper & Packaging partners with a variety of businesses to reduce bull-whip effect due to poor communication, disorganization, and forecast errors.
Simply put, we monitor your inventory of our products and automatically place an order for more when you start to run low. You'll never run out or have to spend unnecessary time counting and reordering.
Just-in-Time (JIT) Delivery System
One way to avoid running out of supplies is to keep a huge inventory in storage. Another is to carefully track how much you use so you can reorder when the inventory gets low. That sounds like an awful lot of work—and unnecessary cost.
Just-in-Time (JIT) Delivery is the easy, efficient solution. JIT delivery reduces your carrying costs by allowing you to keep a lower inventory of supplies. All your packaging, cleaning, safety, and industrial supplies will arrive right when you need them.
Vendor Managed Inventory at AP&P
Benefits of Vendor Managed Inventory (VMI)
Experience the many advantages of vendor managed inventory, including:
Decreased cost of planning and ordering
Faster processing
Fewer data entry errors
Fewer ordering errors (and returns)
Stronger ties and better communication with the vendor
Easily control your inventory of:
VMI is just one of our business solutions. AP&P also offers logistics management and supply chain optimization to make your business run more smoothly and efficiently.
Inventory Management for Supply Chains and Other Businesses in Wisconsin
AP&P offers vendor inventory management for local businesses in our home state of Wisconsin. Enjoy the benefits of vendor managed inventory and JIT services wherever your supply chain is located.