Wholesale Facility Supplies for Cleaning and Maintenance
Janitorial Products and Equipment for a Sanitary Workplace
It takes a lot of little supplies to run a business. From mops and carpet cleaner to hand sanitizer and trash cans, AP&P has all the wholesale supplies your business needs to function smoothly. Our comprehensive facility solutions provide your workplace with a sanitary, robust environment – fundamental to promote a thriving business setting.
What Type of Facility Cleaning Supplies Do You Need?
Improve the safety & cleanliness of your business with high-quality rubber, metal, and carpet mats.
Secure, tough, and odor-free. We offer industrial grade and economy trash bags and can liners for your business.
Ensure your commercial space is up to sanitation standards with top-quality hand soaps and detergents.
Wet mops, dust mops, floor signs & other janitorial utilities provide a streamlined route to professional cleaning & maintenance.
Reduce order in your commercial space with industrial-grade trash cans, containers, and tilt trucks to dispose of waste fast.
Expedite your office's sanitation with state-of-the-art dispensers for hand sanitizer and soaps.
Industrial-grade towels, tissues, rags & microfiber cloths for any cleaning & maintenance application.
Mops and more janitorial equipment to ensure safety and cleanliness in your commercial workplace.
Keep your workers safe with industrial first aid & all-purpose kits. Buy in bulk.
MRO (Maintenance, Repair, Operations) Supplies
The best MRO solutions for companies and businesses are found with American Paper and Packaging. As a leading supplier of MRO tools, we carry cable ties, markers, stencils, labels, adhesives, and everything in between. When it comes to providing your supply chain or other business with better maintenance, repair, and operations products, we've got your back. Consumables, packaging supplies, electrical tapes, and specialty chemicals are well-priced and abundant here at AP&P. Janitorial products, gloves, envelopes, and mailers are just some of the hundreds of products you can get for great prices.
Historically, MRO supplies have been used to fulfill a wide scope of company management and budget responsibilities in the aerospace and aviation industries. Finding MRO tools for your specific cleaning and maintenance needs can be an extensive and exhaustive process, but with American Paper and Packaging's specific inventory you'll be able to quickly narrow down the necessities. A few of our MRO supplies include:
Whether you're in search of a stainless steel cleaner and polish or heavy-duty de-greaser, this MRO supplier guarantees you will receive the highest quality cleaning products for the best price. Our MRO supplies are great for companies looking to reduce total costs by an impressive percentage through the management of their inventory's stock of cleaners. Buy in bulk for the best price on any of our MRO supplies today! Make AP&P your number one source for MRO supplies and save on every purchase.
Sanitization Solutions for Safe and Hygienic Facilities
Keeping your workplace clean is imperative for success. Maintain a presentable and orderly workplace to make a lasting first impression on employees and customers. Every company needs to be sanitary and committed to preventing disease and germs from spreading among the staff and guests. Sanitation practices like disinfecting and sterilizing kitchens, bathrooms, break rooms, and work areas can make a huge difference in the health of your employees.
Our wide selection of sanitation products allows your company to improve your cleaning procedures and sanitation methods with a variety of chemical cleaners, detergents, and electronics cleaners. These important measures ensure the maximum operational time. Furthermore, preserving your equipment for as long as possible begins with immaculate conditions. Ensure a long life for your equipment with AP&P cleaning chemicals and supplies.
Paper Products for Kitchens, Bathrooms, and Work Areas
Sanitization products we offer include: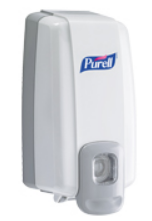 Save on bulk orders of paper hand towels, toilet paper, tissues, and disinfecting wipes from AP&P. Stock your business' kitchens and bathrooms with regular or jumbo perforated paper towel rolls in convenient dispensers. Studies have shown paper towels to more effectively remove bacteria than electric hand dryers. Offering folded hand towels or rolls of paper towel helps prevent the spread of germs and bacteria to keep your employees healthier.
Take it a step further! Provide employees with disinfecting wipes and hand sanitizer to keep their hands and work areas clean, especially during flu season. Keyboards, computer mice, and phones have been found to collect harmful microbes and bacteria, including E. coli and staph. Especially in offices where equipment is shared among multiple employees, diseases can easily be transmitted from person to person. Trust our disinfectant wipes and chemical cleaners to protect your staff and guests.
Cleaning products we offer at our online store include: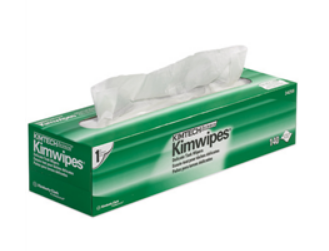 Anti-Fatigue Floor Mats Support Employee Health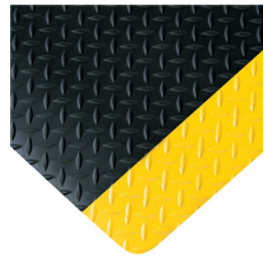 Supplies like trash cans and cleaning tools are obvious essentials, but many more products need to be considered for your business to run smoothly. Ergonomic matting can boost productivity if your business has employees on their feet all day. Along with being more comfortable to stand on, ergonomic and anti-fatigue floor mats provide a variety of health and efficiency benefits:
Reduce stress on the feet, legs, and back
Lessen pain and stiffness in the neck and shoulders
Prevent muscle cramps
Promote blood circulation
Prevent slipping and falling
Minimize the number of accidents
Reduce sick leave and the costs of absence
Increase productivity and job satisfaction
Positive impact on job performance and morale
Standing on a hard surface without an ergonomic mat can take a long-term toll on your employees' health, causing varicose veins, lower back pain, leg pain, fallen arches, and plantar fasciitis (jogger's heel), to name a just few of the possible health issues. Studies of the benefits of ergonomic and anti-fatigue matting show a significant improvement in physical comfort, energy, and productivity.
Look no further than AP&P to transform your workplace into a more comfortable, sanitary, and healthy environment. Protect your employees with sanitation supplies and workplace safety products, like first aid kits, work gloves, eye protection and more.
Contact our personable and knowledgeable janitorial supply staff to place your order.