Get Quality Fleece-Lined Leather Work Gloves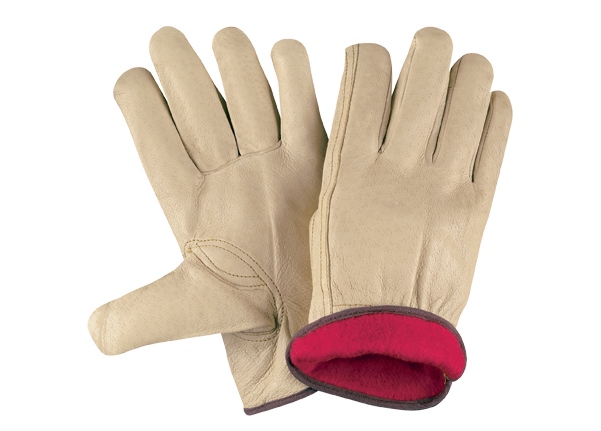 Keep Hands Warm this winter with Lined Leather Gloves from American Paper & Packaging
Workers know that whether working a construction site, shuffling inventory in a warehouse, delivering product on the road, or packing trucks on the loading docks, their hands are their livelihood. When the temperature starts to drop, they need gloves which allow them to grip and lift, without being too bulky. Leather work gloves are an essential piece of equipment for anyone exposed to the elements.
Employers benefit from protecting their workers' hands, and authorities also understand the importance of such protection. The Occupational Safety and Health Administration (OSHA) requires employers to select hand protection when employees' hands are exposed to hazards like harmful extreme temperatures, according to standard 1910.138.
Cost-Efficient Lined Work Glove Options
Cold air means dry and brittle skin, which makes hands more slippery and susceptible to cuts and abrasions when handling work implements. High-quality leather gloves from AP&P give workers the warmth and protection they need to stay efficient, confident, and safe in their work. We provide businesses with cost-effective solutions for protecting their workers' hands in the cold. Some of our lined leather work gloves types include:
Warm Work Gloves and Your Logistics
Workers employed in warehousing, trucking, and shipping and receiving can be exposed to frigid temperatures in the winter months. Their hands are often in contact with cold-conductive metals from hand trucks, pallet jacks, truck latches and forklifts. Lined work gloves play a crucial role in keeping your business moving.
Fleece-Lined Leather Work Gloves for Drivers
Truck drivers need to keep a solid grip on the wheel and are often required to exit their cabs to open their trailers, sign bills of lading, and potentially unload their shipments. Ensure your drivers stay safe and warm as they keep your logistics flowing.
Gloves for Dockworkers
Loading docks need to operate consistently and efficiently in order to keep commerce flowing at your business. Dock workers' hands are their most important tools, and they need to be protected to so employees will be safe and warm.
No matter if they operate in an outdoor dock or indoor, goods unpacked from a semi traveling in January will be difficult to handle without proper hand protection. Dock workers are also required to handle pallet jacks, hand trucks and other tools with metal handles, freezing employees' hands and reducing their efficiency. Leather work gloves with lining are the best solution to keep logistics workers comfortable and safe.
Gloves for Forklift Operators
Certified forklift and fork truck drivers are essential to keep materials moving efficiently throughout warehousing and shipping environments. Forklift operators are often required to move goods and materials in cold environments, so they require quality fleece-lined driving gloves to keep their grip, move objects efficiently and stay comfortable.
Back to News