Pallet Strapping Materials
Strapping, Bundling, and Banding Products Supplied by American Paper & Packaging
Shipping boxes, packaging products, and secure pallet loads would be a near impossibility without steel and polypropylene/polyester strapping. American Paper & Packaging supplies companies within the manufacturing and shipping industry with packaging products they need to keep products in transit or storage secure and free from pilferage.
AP&P is a leading supplier of all types of packaging supplies, and we sell poly strapping and steel banding for a wide range of shipping uses. From securing items in semi-trailers and intermodal containers to banding unit loads of corrugated boxes on skids, AP&P is here to help you with all your bundling and packaging needs.
Get Bulk Strapping PricesCompare Strapping Materials
More Strapping Products from AP&P
High-Quality Strapping Materials at Affordable Prices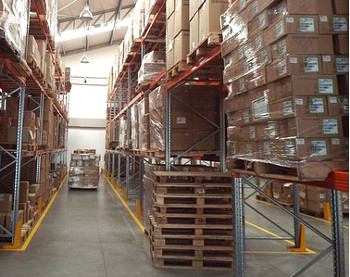 American Paper & Packaging supplies strapping material and machines for manufacturers, shipping businesses, and logistics companies just like yours who need heavy duty products to secure their products in transit. Strapping, bundling, and banding with polyester material can be what your business needs for shipping products across the country!
Durable Strapping from the Packaging Professionals
No matter what type of strapping you need for whatever purpose, the professionals at American Paper & Packaging have everything you need for your shipping needs. We stock world-leading, name-brand strapping for whatever your packaging or bundling needs may be, and we promise the best products at the most affordable prices.
We team up with businesses all over Wisconsin and beyond to provide them with the best strapping for bundling, banding, and packaging purposes. We stock all the strapping products you need for reinforcing boxes and crates, attaching items to pallets and flatbeds, bundling items together for shipping, or any other type of packaging application you may have.
Re-ordering your strapping material is as simple as a click of a button. We employ a vendor-managed inventory system which automatically re-orders supplies when you're running low. You'll never need to be concerned if your strapping inventory won't meet the needs of your next office move – American Paper & Packaging is here to help you with all your strapping and bundling needs.
Get High-Quality Strapping and Banding Equipment from AP&P
If you need a fully automatic or semi-automatic strapping machine for your shipping and packaging business, you'll find the best deals at American Paper & Packaging. We have everything you need – from polypropylene strapping and polyester strapping to steel and metal strapping available at our online store. We continuously provide companies just like yours with everything you need for packaging and bundling purposes!
Our strapping and banding equipment have a wide range of available features, including:
Motor shut off when not in use
Arch, side arch or vertical type strapping
Mechanical or magnetic tension controls
Accommodating multiple strap widths
Adjustable table heights
Footswitch cycle initiation
American Paper & Packaging is a single-source solution for streamlining your shipping and production processes. Get in touch with one of our packaging experts today to learn more!
Carton Sealers, Shrink Wrapping & Bagging Equipment for Shipping
American Paper & Packaging elevates the productivity of warehousing, shipping and manufacturing companies by providing the latest industrial packaging machines. AP&P's efficiency experts offer supply line and process consultation to supply your company with the perfect machinery to fit your unique needs.
Available Packaging Equipment
Pallet Strapping Products for Shipping and Packaging
Contact the team at American Paper & Packaging today to order your next supply of steel, polyester, or poly strapping. You'll be able to ship your boxes, pallets, and heavy-duty items safely and effectively with the best, most affordable strapping material available.
Call or email American Paper & Packaging today at 414-462-8560 to learn more about our strapping materials.
Don't wait – call the strapping material supplier at AP&P today to buy high-quality strapping at the most affordable prices.