Unraveling Stretch Film vs Shrink Wrap
Stretch Film vs Shrink Wrap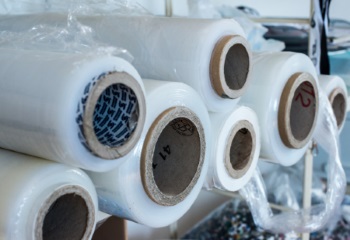 Along with corrugated boxes and chipboard cartons, our online catalog provides stretch film and shrink wrap for securing products during shipment and transportation within a warehouse. Like corrugated, chipboard, and cardboard, many people use the terms stretch film and shrink wrap interchangeably. However, there is a distinct difference in their uses.
Stretch film is a flexible plastic similar to Saran wrap. Often wrapped around multiple packages on a pallet to provide protection and stability. View our selection of hand stretch film, machine stretch film, stretch netting, dispensers, and cutters for your warehouse or loading dock.
Unlike stretch film, shrink wrap does not stretch. Shrink film bags are wrapped loosely around individual products or several small items to shield against weather and dust. The shrink wrap is then heated with an industrial heat gun, causing the plastic film to shrink tightly around the items. AP&P carries a variety of shrink film, shrink film bags, shrink tubing, heat guns, and shrink wrap systems, and service kits.
Packaging Solutions for Shipping Heavy Items
Buy affordable packaging for shipping large boxes of heavy objects. Our selection of large, heavy-duty boxes, containers, and packing materials are strong and sturdy. Transport or store all kinds of heavy products or parts, such as:
Machinery
Equipment
Parts
Engineering goods
Books
See Shrink Wrap ProductsSee Stretch Film Products