Wholesale Packaging Supplies
From Boxes and Bags to Stretch Film and Mailers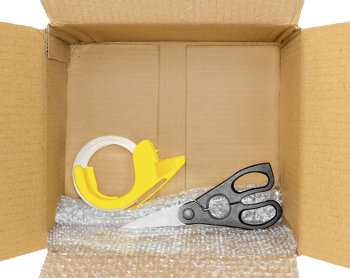 Our full-service packaging services include everything your business needs to operate at full capacity. Let our wholesale packaging materials fully protect your items for storage, transportation, and delivery to save your business time and money. Whether you're located in Milwaukee, Madison, Green Bay or anywhere else in Wisconsin, American Paper & Packaging has a wide variety of products and equipment to package your products and materials:
Explore our full catalog of packaging supplies online to keep your shipping department running at optimal conditions. For unique products and shipments requiring specialized protection, we design and create custom packages and point of purchase displays. See some of our most successful custom packaging solutions.
Corrugated Boxes for Sale Online
One of the most versatile packaging materials available on the market is corrugated material. Millions of corrugated boxes are used every year to protect and display goods and products. Corrugated boxes are a light-weight solution to a heavy-weight problem, made of three layers of "kraft" paper (deriving its name from the German word for strong). The layered structure of corrugated resists tearing, splitting, and bursting. The structural engineering of our corrugated boxes incorporates a ridged inner "wall" made of the third sheet of kraft paper.
The inherent strength of the box, once assembled, is a business solution for lowering shipping costs while still carrying sufficient weight. AP&P has every shape and size of the corrugated boxes available for your business' packaging needs.
Multiple Chipboard Packaging Sizes Available
Chipboard is the handy, light-weight cardboard used to back pads of paper and to protect photographs when being mailed or transported. Chipboard is also used in book-making and craft construction, making it a multi-purpose material. Sometimes known as paperboard, chipboard is remarkably useful material. Made from recycled paper, the chipboard is an affordable, eco-friendly packaging product. Chipboard serves as an excellent packaging material due to its light-weight yet stable nature. Items packed remain stable while adding little to the overall package weight, keeping your company's shipping costs low.
Poly Bags for Shipping and Mailing for Sale Online
Polybags are multi-functional, all-purpose shipping containers used in a variety of ways. Offering convenience and protection, poly bags are essential for handling and mailing small parts and items which need to remain in pristine condition after packing and shipping. Polybags come in a wide variety of sizes, quantities and thicknesses and are capable of handling multiple tasks to serve any purpose your business may have. From flat or gusseted bags to static shielding, you'll find these shipping essentials and more online at American Paper & Packaging. Get what you need to keep your business shipping product!
BUBBLE WRAP is a trademark of Sealed Air Corp.