Edition: August / 2018

7 Signs It's Time to Automate Your Packaging Line
AP&P Celebrates Summer!
What's Happening
We are proud of our family atmosphere here at AP&P, and do everything that we can to promote fun in the workplace. We try to show our team just how much they mean to us by hosting cookouts, company events, and team outings, and they really seem to appreciate it!
A few weeks ago, on Friday, July 13th, we were planning on holding a picnic on our patio to celebrate summer. Due to inclement weather, we had to bring the party inside, but we still had a great time. The company ordered subs in for everyone, and our employees all brought in their favorite dishes and treats to share!
We spent some time sharing in conversation, laughs, and great food, and everyone got a little time to take a break from work!
7 Signs It's Time to Automate Your Packaging Line
Tips & How-To's

Determining when it's time to automate your packaging line doesn't have to be difficult, but you do need to do some research to determine where to start, and which specific equipment will provide your business with the biggest return on your investment.
Here are a few signs that you are ready to automate your packaging line:
1. Demand and Markets. Understanding your target markets and potential growth ahead of time will help you to justify new investments in machinery. Here are some questions to think about:
Do you anticipate a large amount of growth over the coming year?
Will you be adding new products to your line?
2. Your Employees Can't Keep Up. Labor is often the first thing that is reviewed when looking into packaging automation. If your demand is increasing, and your team is barely making their targets, it is time to automate! Slow packaging systems can cause delayed orders, agitated customers, and lost sales.
Increased demand also puts strain on your employees, and can lead to increases in injuries and employee turnover. If you are experiencing these issues, it may be time to review your options for automation.
3. Labor Cost Vs. Automation Cost. Another reason to automate your packaging is to save on labor costs. If you are paying an employee to work on your manual equipment, the labor cost includes not only hourly wages, but insurance, worker's comp, unemployment insurance, and the list goes on. In situations like these, equipment like an automated sealer can often pay for itself in under one year!
4. Packages Per Minute (PPM). Determine what your current need for output (PPM) is, and what you expect it to be over the next 12-24 months. Is your product assembled and then brought over to the packaging equipment in bulk, or is it fed directly from production to packaging? If it is brought over in bulk, your packaging machinery determines your PPM. Automating your packaging equipment can speed up the packaging process and allow you to run one day on the packaging lines instead of two. Here are some questions to consider:
How much are you spending on labor to run your packaging line?
How many hours does the line run?
5. Too Much Waste. No matter how well your team is trained, there will always be more material waste with manual labor than with automated machinery. Automated packaging lines are much more precise than human labor. For example:
Workers manually stretch wrapping a pallet often show an inconsistent pre-stretch of the film, thereby wasting the material.
A semi-automatic stretch wrapper can consistently pre-stretch the film, and use a consistent amount of stretch film.
6. Repetitive, Simple Operations. Are your warehouse workers doing a lot of repetitive work that a machine could do faster? If the answer is yes, look into a machine that can accomplish this for you. It will save you on labor cost, and allow your warehouse employees to work more efficiently and focus on other tasks. Examples of repetitive simple operations where machinery can improve your operations and cut costs are: case erecting, filling & sealing cartons, and stretch wrapping.
7. Multiple Products and Lengthy Changeovers. Product changeovers for a company that produces several different items per week can often take 4-8 hours. This down-time is expensive, not only because production is down, but because of the labor cost to pay employees to stand around.
High-speed packaging lines not only eliminate product changeovers, but also allow you to eliminate the need for multiple packaging lines, by creating a single-line layout that can accommodate the same PPM, and multiple product shapes and sizes.
AP&P's efficiency experts offer supply line and process consultation to supply your company with the perfect machinery to fit your unique needs. Our team can identify opportunities for improvement in packaging line efficiency, cost reduction, and productivity.
Available Packaging Equipment:
Carton Sealers & Erectors
Stretch Wrapping Equipment
Protective Packaging & Void Fill Machines
Strapping & Banding Equipment
Shrink Wrapping Machines
Bagging & Sealing Equipment
Click Here to Browse Our Online Catalog
Nicholas Krause
Meet Our Team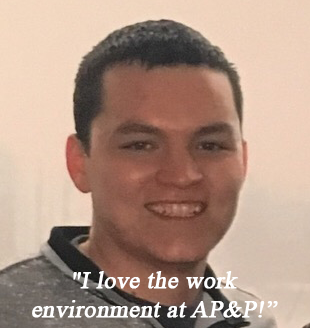 Nick is a son, brother and uncle to two nieces and a nephew. He also has a Siberian Husky named Zephyr. Nick has worked in our warehouse as AP&P's Shipping and Receiving Clerk & Service Technician for 2.5 years.
Before coming to AP&P, Nick worked in sales and management at Gander Mountain for 4.5 years. He has received service technician training, and received recognition for having the "It Factor" at AP&P. The award recognizes an individual who excels in their workplace, often going above and beyond the expectations to ensure that a current task is completed at high quality. Nick's future goals include moving into a management position at AP&P.
He has lived in Wisconsin his entire life, born in Milwaukee and raised in Mayville. He graduated from Mayville High School, and lived in Mayville for most of his life before moving to Germantown.
Nick has been an avid outdoorsman for the past fifteen years, and enjoys hunting in the fall and spring. In the summer, he enjoys golfing.