Edition: October / 2018

AP&P Celebrated Customer Service Week!
AP&P Celebrated Customer Service Week!
What's Happening
Here at AP&P, we recognize that our customer service team is a vital part of our company, and appreciate their willingness to go above and beyond for our customers. That's why we planned activities during Customer Service Week to show them our appreciation! Here's a quick overview of what we did:
| | |
| --- | --- |
| Monday, October 1st | Gift Monday |
| Tuesday, October 2nd | Bagel Tuesday |
| Wednesday, October 3rd | Mid-week Starbucks |
| Thursday, October 4th | Taco Thursday |
| Friday, October 5th | Free Lunch Friday |
On Monday, each of our customer service representatives was given a gift - a soup bowl with the words "You Are Souperb" written in it's decoration. On each of the following days, they received small gifts including breakfast, coffee, and lunch - all provided by the company.
We like to give credit where credit is due. If you've had a great experience with one or more of our team members, we'd love to hear from you! Email Nealy at nfraser@americanpaper.com
Are You Prepared For Winter?
Tips & How-To's
The ice melt that you know and love has a new look!
AP&P is your source for Safe Step® Pro, the industry's most complete line of ice melt products. They have a brand new look, but you can rest assured that you're still getting the same great products! These enhanced blends work fast and melt ice in low temperatures!
Not sure which product is right for you? We've created this handy guide listing the differences between each product, so you can decide which product is right for you!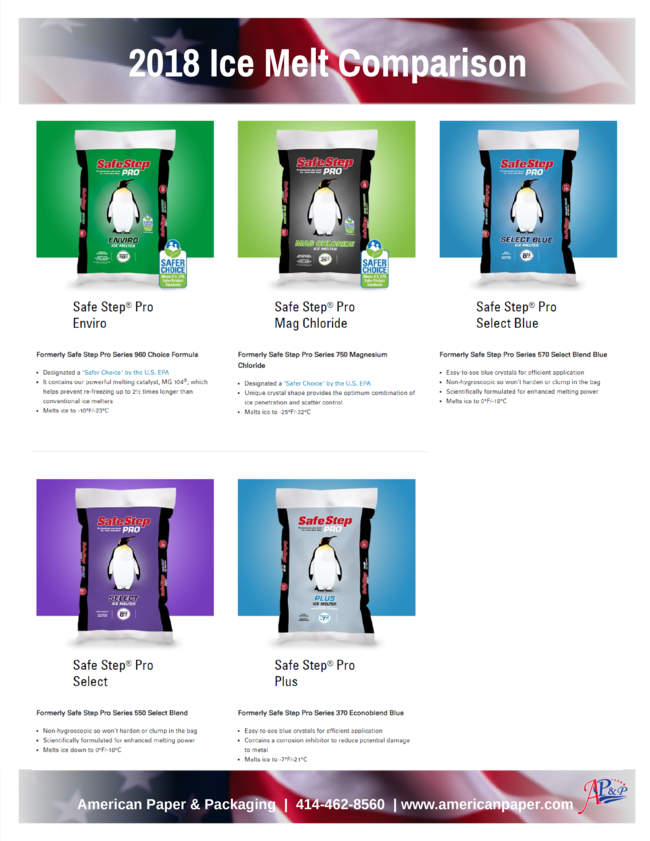 Contact us today to order your ice melt and ensure that you are prepared for the winter ahead!
Steven Zeck
Meet Our Team
Steve is a father of two girls and grandfather of three granddaughters (ages 15, 10 and 5). He joined us in September of this year, and currently works as our truck driver and warehouse worker. His lifetime of driving experience and knowledge of the entire Southeast Wisconsin area makes him a fantastic addition to the AP&P family!
He started driving semi trucks in 1985. He drove for a chrome plating company for nineteen years, and then drove for Border States Electric for another twelve years, hauling huge reels of wire and transformers on a flatbed truck.
Steve holds a Class A CDL and a tanker endorsement. He has received career awards for perfect attendance! He has lived in the Milwaukee, Wisconsin area for his entire life, and attended James Madison High School.
In his free time, he enjoys riding his Harley and attending classic car shows with his 1967 Pontiac LeMans.