Antimicrobial Hand Soap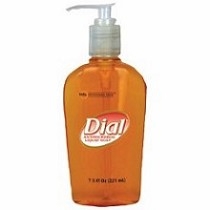 Wash Your Hands and Stop the Flu!
Washing your hands is the best way to stop the flu. Dial Liquid Gold contains the active ingredient benzethonium chloride which kills a broad spectrum of bacteria and yeasts. With Dial Gold Antimicrobial Soap you'll send the flu bug packing!

5 Tips to Avoid Spreading the Flu at Work
Watch what you touch – at the office you're likely touching your keyboard and mouse, but there are other communal surfaces you're probably putting your hands on. Be mindful of all the objects and door handles you're touching so as not to spread around too many germs.
Wash your hands – this may seem obvious, but it's more important than ever during the flu season to wash your hands properly. Dial Liquid Gold soap contains bacteria-killing active ingredients that helps fight flu germs that linger on your hands.
Use tissues – when you need to cough or sneeze, you can reduce the spread of flu germs by using a tissue or handkerchief. Make sure you always have something on hand during the cold winter months!
Wipe down germy surfaces – making a habit of using disinfecting wipes at work is a great way to deter the spread of flu germs. You can purchase a wide variety of soap, all-purpose cleaners, and disinfectants from the AP&P online store.
If you're feeling sick, stay at home! – despite all the measures we can take, getting sick is sometimes unavoidable. If you find yourself having flu-like symptoms, DON'T come into work. Stay at home and take care of yourself until you're feeling better, or talk to your doctor.
Back to News