Get your Moving Supplies at American Paper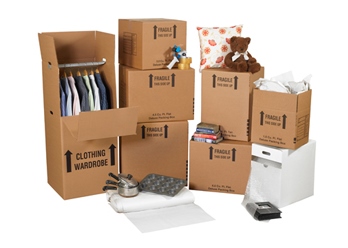 Corrugated Cardboard Moving Boxes in Stock at American Paper & Packaging
Get Supplied for Your Moving Needs
Spring is coming and moving season is getting closer! College students are packing up their dorms, house hunters are making final decisions and moving companies are gassing up their trucks. Whether you need a few boxes to pack up a room, or your entire office branch is moving into new digs, getting the supplies in order to make the transition as smooth as possible can be a challenge. AP&P has the solution for any sized relocation.
We are your single-source solution for moving boxes and supplies. Don't waste time, energy, or dignity digging through cardboard dumpsters behind grocery stores for used moving boxes. We've got what you need, and we'll get it to you fast.
We're a Wisconsin-based cardboard and paper packaging supplier, and we're in the business of yes. If you need a product or moving box outside of our stock inventory, we have the resources to get what you need faster than the competition.
Moving Kits – Get all the Moving Boxes you need in one package
American Paper & Packaging offers complete home and business moving supplies for those looking to relocate. We have all the boxes, packaging, protective wraps, tape, and dispensers you'll need to make your move simple. Choose between three different moving carton packages:
Office Moving Kit – includes interlocking file storage cartons, computer boxes, BUBBLE WRAP® Packaging Supplies, tape, and a variety of corrugated box sizes.
Small Home Moving Kit – includes specialty wardrobe boxes, sealing tape, and a range of box sizes.
Deluxe Home Moving Kit – comes with dish partition kits, several wardrobe boxes, and a variety of corrugated box sizes.
When Standard Moving Cartons Won't Do – AP&P has it in the
Bag

Box!

Professional movers know – having the right box for the cargo makes the job easier. And amateurs soon learn – If you've overstuffed all your boxes, or you've packed your antique china in with your pet rocks, not only will you owe your buddies more pizza and beer, but you'll also have a lot of broken stuff on your hands. The answer is specialty moving boxes from American Paper & Packaging.

Some of the specialty moving boxes available at AP&P include:
Wardrobe boxes: Neatly hang your clothes without wrinkles for your next move. Who wants to get all unpacked and then start ironing immediately?
Dish Packs: Stack and protect your plates, bowls, gravy boats, and soufflé dishes.
Mirror Boxes: Mirrors are a pain to move if they aren't packed well. You don't need 7 years of bad luck just because you didn't get the right moving boxes.
TV Boxes: That 65" 4K Ultra HD didn't come cheap. Keep it safe in transit with a tv box from AP&P.
…and more.
Supplies for Moving
Getting durable moving boxes from American Paper & Packaging is only half of the relocation battle. When you're packing up, you'll need tape to seal your boxes, markers to make sure they get where they're supposed to, and BUBBLE WRAP® Packaging Supplies to protect your breakables. Good news—we've got you covered on supplies too!
We stock a wide array of tape types from vendors like Tape Logic and 3M. Of course, you'll need a way to cut the tape, right? We also sell a variety of tape dispensers to make sealing your moving boxes a walk in the park.
Don't waste your time scavenging for boxes and moving supplies. From closing costs to address changes, there's a ton of things to do when you move. Eliminate something from your pre-move to-do list by getting your moving boxes from the packaging suppliers at AP&P.
BUBBLE WRAP® is a trademark of Sealed Air Corp.
Get outfitted for moving out – simplify your life and your move by contacting American Paper & Packaging for your moving box needs.
Back to News