8 Terms You Need to Know when Choosing a Logistics Management/Supply Chain Management Company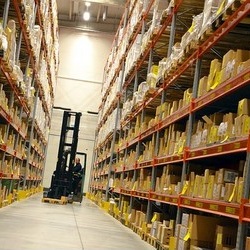 AP&P's Custom Logistics Management Programs Provide Exactly What You Need
Logistics plans customized to your business' needs maximize efficiency and productivity. With supplies and products being shipped out, received, and stored in warehouses, a smoothly-running system is essential to eliminate misplaced supplies, incorrect information, and wasted time. Our specialists are dedicated to designing the best custom logistics management system (a.k.a. supply chain management system) to ensure a flawless process from production to final delivery.
As you search for the right logistics management system for your business, it's important to understand the difference between commonly used terms.
1. Supply Chain Management (a.k.a. Logistics Management Program)
Logistics Management and Supply Chain Management both refer to the system of overseeing and coordinating the flow of products, information, and money between suppliers, manufacturers, wholesalers, retailers, and consumers.
2. Third Party Logistics (3PL or TPL)
The term "third-party logistics" refers to an outsourced logistics service provider. The term 3PL is commonly used to refer to a service contract encompassing anything from transporting or warehousing products to overseeing the whole supply chain. 3PL providers can range from courier companies, pick and pack services, and warehouse owners at the lowest level to complete management of a customer's logistics.
3. Reverse Logistics (a.k.a. Aftermarket Supply Chain or Retrogistics)
Reverse logistics refers to all the activities of a company after the point of sale—things such as customer service, repairs, handling warranty claims, refurbishing, and recycling. Ultimately, it is concerned with minimizing losses to businesses as much as possible.
4. Transportation Management System (TMS) Logistics
A Transportation Management Systems is a type of software for planning and optimizing transport, real-time tracking of shipments, and reporting on Key Performance Indicators (KPI), which include productivity and cost. TMS logistics offer analytics that help inform important value-conscious decisions.
5. Lean Logistics
Lean logistics is a method used to eliminate waste and increase speed and flow—particularly through the elimination of any inventory not required for operations or for a customer's immediate needs. Since inventory costs run 15 to 40% of the total logistic costs in many industries, maintaining a lean inventory has a significant impact on operating costs.
6. Inbound/Outbound Logistics
Inbound logistics concerns the transportation, storage and delivery of materials and products coming into a business, while outbound logistics concerns those materials and products going out from a business.
7. Integrated Logistics Support (ILS)
Integrated Logistics is the management of an entire supply chain as a single entity to ensure system availability, as opposed to managing individual functions separately. It encompasses activities such as personnel management, training, computer support, maintenance of equipment, and packaging, handling, storage and transportation (PHS&T).
8. Freight Logistics
Freight (or cargo) is a shipment of products or goods, usually by ship, although the word is often used to refer to goods transported by any means. Freight logistics concerns the process of coordinating the most efficient and cost-effective routes and transport for the goods being shipped.
Custom Logistics Management Solutions Ensure a Streamlined Process from Production to Delivery
From small businesses to large corporations, AP&P's logistics experts create unique LMPs for each supply chain. Whether you need integrated logistics support for your entire process or focused management of a particular part, American Paper & Packaging is here to make it happen.
Back to News