EZ Back Film Dispenser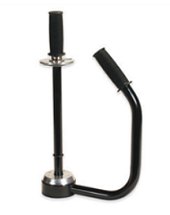 Reduce Injuries and Cut Film Usage by 10%
Wrapping pallets by hand is one of the most difficult jobs in a warehouse. Workers who wrap by hand are at risk for lower back injuries, dizziness, and general fatigue.
Because the EZ Back Dispenser is so light, workers only need one arm to wrap the pallet. They walk forward instead of backward, and they don't have to bend over.
Watch the video below to learn more and ask your AP&P Sales Rep for a demonstration of this great back and money saving product.
Back to News